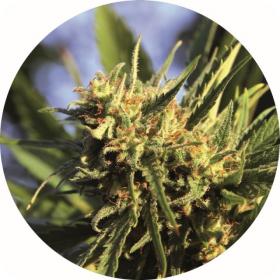 Super AUTO Tao Regular Seeds
Super Auto Tao is the most popular regular/auto-flowering strain by Top Tao Seeds. This strain has a 50/50 chance of being sativa or indica. It is extremely robust and compact, which makes it perfect for outdoor growing.
This strain also has a natural resistance to mould and pests. The yields are the really super thing about this strain. Super Auto Tao produces huge qualities of thick, resin coated buds and is one of the most productive cannabis strains around.
Even though the yields are massive the potency of the buds is still high, and the flavour still intense. The effect is balances and calm with a harmonious touch that leaves the brain free and relaxed.
This strain is both auto-flowering and regular, making them perfect for breeders. Auto-flowering plants will flower automatically, rather than as the result of a light cycle. This means that their over all flowering time will be shorter as well as their stature.
Despite their small size these plants will still produce fantastic yields. This makes them perfect for commercial growers and for those who have smaller grow spaces such as balconies and window boxes.
The fact that these seeds are regular means that they will grow into a mix of male and female plants. This makes them perfect for breeders, who need the male pollen to breed their future crops.
This strain has a flowering time of 4 – 5 months and can be grown indoors or outdoors.
Remember that the cultivation of cannabis seeds is illegal in some countries, please check the laws of your country before attempting to cultivate cannabis seeds.