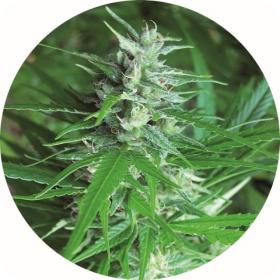 Haze AUTO Tao Regular Seeds
Haze Auto Tao is a stunning and impressive plant with one central bud. It is a gorgeously glittering plant covered in sparkling resin. It has a powerful effect, as a good Haze strain should, and an amazing smell that goes beautifully with the unique flavour.
This strain doesn't have many side branches and won't take up huge amounts of growing space. This is the perfect strain for the impatient connoisseurs.
This strain is regular and will grow into a combination of male and female plants. This makes them ideal for breeders who need the male plants for their pollen. Regular plants are also photo-period and will flower in response to a light cycle.
Regular seeds will grow into a roughly even split of male and female plants, with a few extra females. This gives the breeder plenty of choice when it comes to selecting the parent plants for the next crop.
Cannabis plants will usually pass on their best genes and so choosing the best plants will improve the quality of the next crop.
This strain has a flowering time of 3 – 5 months and can be grown indoors, outdoors or in a greenhouse.
Remember that the cultivation of cannabis seeds is illegal in some countries, please check the laws of your country before attempting to cultivate cannabis seeds.