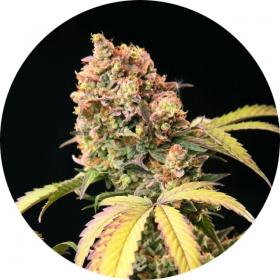 Demon AUTO Tao Regular Seeds
Demon Auto Tao is a sativa dominant hybrid that is a cross between Bohemia Abdul and an unknown ruderalis strain. The result is a high THC percentage and has a short flowering time.
This strain is versatile and its branches are wild and chaotic, hence the name. The flavour is intense and fruity with a stunning frangrance to match.
Due to the high THC levels the effect is powerful and the sativa dominance means that the mental aspect is soaring and euphoric. This strain is incredible for stress relief and makes an excellent treat after a long day.
This strain is auto-flowering and will flower automatically, rather than as the result of a light cycle. Auto-flowering strains tend to be shorter than photo-period strains but have exactly the same yield.
This makes them perfect for commercial growers and those who don't have a lot of growing space. This strain is also regular and will grow into a combination of male and female plants.
This makes them perfect for breeders, who need the male plants for their pollen. The split is usually around 50/50, with a few more females than males, giving the breeder plenty of choice when it comes to selecting the parent plants of the next crop.
This strain has a flowering time of 3 – 4 months and can be grown indoors or outdoors.
Remember that the cultivation of cannabis seeds is illegal in some countries, please check the laws of your country before attempting to cultivate cannabis seeds.