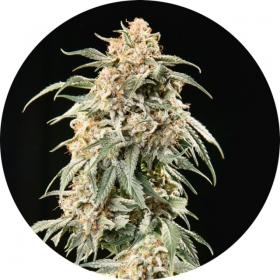 Big AUTO Tao Regular Seeds
Big Auto Tao is a fantastic auto-flowering strain from Top Tao Seeds. This strain is a combination of Super Auto Tao and Taomatic, resulting in a cup winning strain.
It won 1st place  in the 2012 Soft Secrets Cannabis Cup for indoor strains. Big Auto Tao produces loads of resin and is covered with small, red pistils and thick, furry trichomes.
This strain has a fantastic scent and flavour of fruit. It also has an amazing effect that is euphoric and uplifting with a soft relaxation that comes in towards the end.
This makes it a great strain for those who struggle with sleep issues, stress or pain.
This strain is auto-flowering, meaning that it will flower automatically rather than as the result of a light cycle. This shortens the flowering time of the plants as well as the stature.
Despite the small size of the plants these strains will still produce fantastic yields. This makes auto-flowering strains perfect for commercial growers and those who are lacking in space.
Auto-flowering plants will also grow into a combination of male and female plants, which makes them perfect for breeding.
This strain has a flowering time of 12 – 14 weeks and can be grown indoors, outdoors or in a greenhouse.
Remember that the cultivation of cannabis seeds is illegal in some countries, please check the laws of your country before attempting to cultivate cannabis seeds.