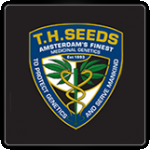 T.H. Seeds is one of the oldest cannabis seed companies in Holland as it was formed in 1993. It began in the C.I.A. (Cannabis In Amsterdam), a Cannabis information centre, which was a world renowned seed shop and the first hemp store in Europe.
T.H. Seeds produced excellent cannabis seed varieties which quickly established their reputation among the experienced growers. The high quality cannabis seeds genetics come from dedicated researchers, breeders, and growers. Together they produce a strong, potent, and reliable strain that will give you confidence and peace of mind of having the best quality cannabis seeds available on the market at your fingertips. TH Seeds are responsible for such popular cannabis seeds as A Train, Electric Lemon G and Sage n Sour.
Since back in 1994, T.H. Seeds has been providing the world with award winning cannabis and have won a huge number of Cannabis Cups starting with Kal-X in 1995, through S.A.G.E in 1999-2001 and on to Electric Lemon G which won 2nd place in the 2011 Cannabis Cup.
They actively encourage feedback from their customers which allows them to tailor their strains towards the most popular cannabis seed characteristics.
If you are looking for some of Amsterdam bests and a strain of marijuana that is affiliated with the High Times Cannabis Cup Awards, then T.H. Seeds are just the seeds for you.
Please remember that the growing of cannabis plants and the cultivation of seeds is illegal in some countries - please check the laws of your country and don't be growing any plants if it is against your country's laws.