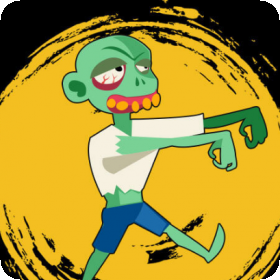 Zombie Haze Auto Feminised Seeds
Zombie Haze is a sativa dominant strain that was created by crossing Amnesia Ganja Haze and White Widow Original. This strain has extremely high levels of THC and a low level of CBD.
The flavours range from sweet and floral to spicy pine with a delightfully varied scent to match. The effect is super psycho-active and lasts for a long time which makes it an extremely fun strain for all occasions, as long as the smoker doesn't plan on staying lucid.
This strain will usually yield from 450 – 550 g/m2 indoors and 650 – 850 g/plant outdoors.
Zombie Haze is both auto-flowering and feminised. This means that it will not require a light cycle in order to flower and will only grow into female plants.
This makes them ideal for all sorts of growers from those with a small, private garden to those growing commercially. Auto-flowering seeds have a much shorter flowering time than regular seeds, as well as a smaller stature.
Despite this they will still produce the same impressive yield. Feminised seeds, as previously mentioned, will only grow into female plants.
This can save growers a huge amount of time and money that would otherwise be wasted on male plants. Feminised seeds also tend to be higher in quality and uniformity than regular seeds.
This strain has a flowering time of 77 – 84 days and can be grown indoors, outdoors or in a greenhouse.
Remember that the cultivation of cannabis seeds is illegal in some countries, please check the laws of your country before attempting to cultivate cannabis seeds.