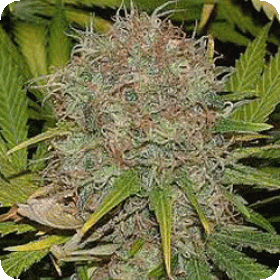 AK-48 AUTO Feminised Seeds
AK – 48 Autos is an extremely powerful strain with an amazingly high THC rating. This strain is a combination of AK – 47 and Lowryder, resulting in an extremely fast flowering strain.
The yields will be very slightly smaller than the original but it more than makes up for yield with speed and quality. The buds are extremely tight and covered with resin crystals.
The effect is very heavy hitting and probably not for beginner smokers. However, for those who want  something intense, powerful and fast AK – 48 is the one.
This strain is both auto-flowering and feminised. Auto-flowering plants will flower on their own at a certain point in their lives, rather than as the result of a light cycle.
This will shorten their flowering time as well as their stature. Despite their small size they will still produce fantastic yields, making them perfect for indoor and commercial growing. Feminised seeds will only grow into female plants.
This is perfect for growers who don't plan on breeding their own crops. For these growers the male plants are a bit of a nightmare and can damage the females during the flowering period.
This means they have to be removed before they can do any damage, which is a massive waste of time and money. Feminised seeds also tend to produce higher quality plants than regular seeds.
This strain has a flowering time of 8 – 9 weeks and can be grown indoors or outdoors.
Remember that the cultivation of cannabis seeds is illegal in some countries; please check the laws of your country  before attempting to cultivate cannabis seeds.