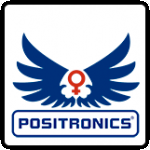 Positronics has been a legendary name in the world of cannabis seed breeding, ever since the company was founded back in 1985.
This seed company is famed across the globe for its outstanding strains, which include:
Critical # 47 Express - A potent, Indica-heavy cross between two explosive strains: AK47 and Critical Mass: When you absolutely, positively, need to collect the hardest-hitting genetics in the room…accept no substitutes!
Supercheese Express - By combining Afghan Express and Supercheese, Positronic seeds have successfully produced a potent, super-rapid, auto-flowering beauty!
Jack Express Diesel - The legendary Diesel strain meets the mighty Jack Diesel, to produce a mind-blowing auto-flowering power-house: The result is a strain to be reckoned with.
Purple Haze #1 - Get that Woodstock feeling with this powerful, energising Purple Thai/Haze cross; Revered for its super-high THC levels (up to 22%) and its minty, herbal flavour profile, this strain produces uplifting, spiritual effects that reverberate through the mind like a Hendrix solo!
Cum Laude - This special strain was created by Positronics to honour Professor D. Antonio Escohotado, thanking him for his contributions to the global cannabis movement; Cum Laude is known for its otherworldly, dream-like effects: The high is both creative and cerebral, whilst its flavour profile is distinctively spicy and herbal.
Amnesia Mystery - This enigmatic genetic marvel is known for its mammoth size, superb hardiness against the elements and spicy, earthy flavour; the high is creative, energetic and social: This is one strain you certainly won't forget in a hurry!