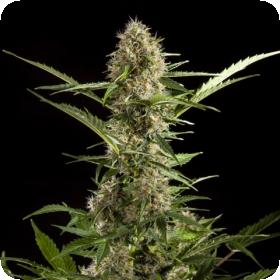 White Yoda Auto Feminised Seeds
White Yoda Auto was developed from a hybrid of the famous Lowryder strain and a 2002 selection of one of the most popular strains around, White Russian. Lowryder is an inbred strain which was bred over 9 generations in order to keep it at the shortest height possible. It comes from a form of Ruderalis crossed with Northern Lights #2 and Williams Wonder. This strain is cerebral and medicinal with a slow yet powerful onset. It has a mild and earthy scent which is potent and lingers on the senses. White Russian is a stable cross of White Widow, one of the most famous strains in existence, and AK - 47.
It has a strong Indica background and THC levels are very high. It has a powerful and long lasting medicinal effect which is ideal for those suffering from stress, pain, depression and insomnia. The White Yoda strain took 7 generations to bring to its full potential and White Yoda truly is a legendary strain. White Yoda is relatively easy to grow with compact growth which means it gives an impressive yield. The flavour of the strain is sugary and a little earthy with a taste that lingers on the palate. Its effect is a relaxing yet balanced one which creates a feeling of well being in the body and the mind.
White Yoda is both autoflowering and feminised. Autoflowering strains flower automatically rather than as a result of a specific light cycle. This means that they are easier to grow and flower much faster than regular seeds. This is because they skip a section of the growing process known as the vegetative stage. This not only shortens their flowering time but means they can be grown to a much shorter height than other strains. This makes them ideal for indoor or stealth growing.
Feminised seeds will only grow into female plants. These seeds are usually of a higher level of quality and uniformity than regular seeds.
They are often used by growers who have no plans to breed their own crops. For these growers the males are not only useless but need to be removed so that they don't hurt the females. This means that around half of the crop is wasted, and so is half of the money spent on seeds.
This strain can be grown indoors, outdoors or in a greenhouse. Indoors it has a flowering time of 75 - 90 days and a yield of 400 - 500 g/m2, outdoors it has a yield of roughly 100 - 125 g/plant.
Genetics:
White Russian x Lowryder (ruderalis hybrid)