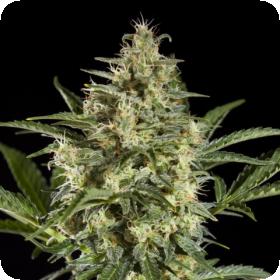 Sleepy Yoda Auto Feminised Seeds
Sleepy Yoda is a combination of Yoda Auto and Northern Lights. The resulting plant is a high yielding strain with a short flowering time that is ideal for all sorts of growers. It is extremely versatile and can be grown in a number of environments. The main focus of this strain is the amazing yields which will hit around 500 - 600 g/m2 indoors and 125 - 150 g/plant outdoors.
This strain doesn't have a lot of CBD but its THC levels are around 18%. Therefore the effect is about what you would expect from a strain with Sleepy in the name. It is a relaxing high with psycho-active aspects that makes it ideal for a snoozy Sunday afternoon or for an evening strain.
This strain is both auto-flowering and feminised, which makes it perfect for growers. Auto-flowering plants flower automatically, rather than as the result of a light cycle. This shortens the flowering time and the stature of the plant, without negatively effecting the yield. This makes them ideal for commercial growing or for those who don't have a lot of space.
Feminised seeds will only grow into female plants. This means no dealing with the useless male plants, which take up valuable resources such as space, time and money. They have to be removed before they can harm the female plants. Feminised seeds also tend to be higher in quality and uniformity.
This strain needs 60 - 65 days to flower and can be grown indoors, outdoors or in a greenhouse.
Remember that the cultivation of cannabis seeds is illegal in some countries, please check the laws of your country before attempting to cultivate cannabis seeds.
Genetics:
White Yoda Auto x Northern Lights