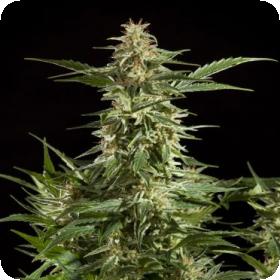 Lemon CBD Auto Feminised Seeds
The CBD-rich, autoflowering variety of the famed "Hollands cut" is Lemon Auto CBD. This plant was mixed with a Juanita x Lowryder hybrid, which has a high CBD content as well. As a result, we developed a CBD-rich, automatic variant of this well-known Amnesia strain.
Lemon Auto CBD may be grown both indoors and outdoors, as well as in greenhouses and guerrilla gardens.
It's incredibly simple to grow, and it grows quickly and vigorously. It has a large number of strong side branches that encircle a noticeable primary stem.
This strain can easily surpass 1 metre in height when cultivated outdoors or in a greenhouse. It is recommended that the germinated seed be transplanted to the final pot (7-12L) for appropriate development and yields. If you want smaller plants, use pots with a lesser volume (3-5L).
Automatic strains are typically grown indoors under a 20/4 photoperiod to maximise yields and growth. If you desire smaller plants, however, select a photoperiod with fewer hours of light, such as 18/6 or 12/12.
We sought to preserve the distinctive aroma and flavour of the Amnesia "Hollands cut," which is high in limonene and has strong citric undertones. When the buds are ripe, some genotypes have a lovely cherry fragrance.
Its 1:1 THC:CBD ratio makes it useful for a variety of therapeutic therapies. The effect is well-balanced and regulated, enhancing mood and eliciting a pleasant sense of well-being. It's a great strain to start with when it comes to cannabis therapies.
Genetics:
Amnesia (Dutch cut) x (Juanita la Lagrimosa x Lowryder)