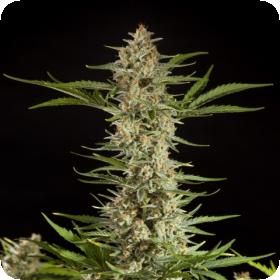 Fraggle Skunk Auto Feminised Seeds
Fraggle Skunk Auto is yet another strain from Philosopher Seeds which is a 7th generation crossing. This strain was created by crossing Super Skunk, which was selected in 1999, with a Lowryder Ruderalis. Super Skunk is an Indica dominant variety which takes its large flowers from the original Skunk #1. The strain was created by crossing Skunk #1 with Afghani genetics.
The strain is known to be extremely pungent with a sweet taste. Its effects are extremely relaxing bodily effect which is ideal for pain or stress. Lowryder is a hybrid Ruderalis strain which was created by combining Northern Lights #2 and William's Wonder. Medicinally it has an uplifting and cerebral effect which kicks in slowly. It has a deliciously earth aroma and grows to a much shorter height than other plants. Fraggle Skunk is resistant to diseases, mould and pests which makes it perfect for novice growers. It has a long lasting scent and flavour with stays and plays on the pallet. It has a high level of THC and CBD which makes it an excellent medicinal strain.
This strain is both autoflowering and feminised. Autoflowering strains are popular because of their shorter flowering time. This is because they flower automatically and skip a section of the growing process known as the vegetative period. Autoflowering strains can also be grown to a much shorter height than regular strains which makes them ideal for indoor growth. Even though they can be kept much shorter than other plants they will still usually give a higher yield than regular strains. This means they are not only easier to grow but also give a higher reward to their grower.
Feminised strains also make the growing process easier. This is because the seeds will only grow into female plants. This is much easier for growers who usually have no need for male plants. In a regular crop around half of the plants will be male. These male plants would need to be removed at the start of the flowering process which means around half of the crop would be wasted, and so would half of the money spent on the seeds.
Fraggle Skunk can be grown indoors, outdoors, or in a greenhouse. It has a flowering time of 70 - 90 days. Indoors it has a yield of 400 - 500 g/m2 and outdoors it gives a yield of 120 - 140 g/plant.
Genetics:
Super Skunk x Lowryder (ruderalis hybrid)