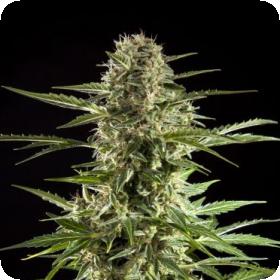 Cheesy CBD Auto Feminised Seeds
Cheesy Auto CBD is a combination  of Cheesy Auto and a CBD rich Auto strain. This strain is great for those who love the sweet taste of cheese but are also looking for something medicinal.
It is indica dominant and will grow dense, resin covered buds. This strain has all of that classic Cheese flavour with a hint of earth and ripe grapes.
The effect is extremely relaxing and not to mentally subduing, it is perfect for those who are looking for a daytime therapeutic strain.
This strain is both auto-flowering and feminised, making it ideal for growers. Auto-flowering seeds will flower automatically, rather than as the result of a light cycle.
This not only shortens the flowering time but the stature of the plant, without the yield being effected. This makes them great for those who are lacking in grow space, or who are growing in bulk.
Feminised seeds will only grow into female plants, removing the issue of the males. This makes them great for growers, and their over all uniformity and quality is usually much higher than that of regular seeds.
This strain will need 60 – 65 days to flower and can be grown indoors or outdoors.
Genetics:
Cheesy Auto x (Juanita la Lagrimosa x Lowryder)