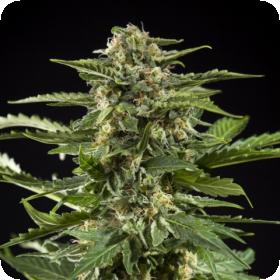 Cheesy Auto Feminised Seeds
Cheesy Auto is part of a brand new line from Philosopher Seeds. This strain has gone through over 7 generations of breeding and is thought of as a more old school autoflowering plant. Cheesy Auto comes from the original elite clone of UK Exodus Cheese which is a form of Skunk most famous for its distinctive scent and flavour. The structure of the plant is robust and has dark green leaves which is very typical of the Cheese strain.
The effect of Cheese is an extremely cerebral effect with full body relaxation, it is ideal for creative and social activities. It is also perfect for a day time painkiller or for those suffering from stress, anxiety, depression and muscle pain. This is because whilst it numbs pain it does not affect the lucidity of the patient. In order to render this strain autoflowering it was crossed with a Lowryder Ruderalis strain. This cross means that those who prefer old school strains can still enjoy the user friendly nature of autoflowering feminised seeds.
Autoflowering strains are popular because they flower differently to regular seeds. They flower automatically rather than as a response to a specific light cycle. This has a number of positive effects on the strain such as shortening its flowering time. Since these plants flower automatically they skip a section of the growing process known as the vegetative stage. This shortens the flowering time significantly. Autoflowering plants are also capable of growing to a much shorter height whilst maintaining larger yields. This is ideal for those who are lacking in space or want to grow indoors.
Feminised seeds will only grow into female plants which also makes the growing process easier. For growers who have no need for the male plants feminised seeds save them money, time and effort. Usually, in a regular crop, the plants would be roughly equal parts male and female. This means that half of the crop would not be needed and so half of the money spent on the seeds would be wasted. Feminised seeds are also of a generally higher quality and uniformity than regular seeds.
This strain can be grown indoors or outdoors. Indoors they should be harvested 65 - 85 days from germination and will give a yield of 400 - 450 g/m2. Outdoors they should be harvested 65 - 85 days from germination and have a yield of 100 - 125 g/plant.
Genetics:
U. K Exodus Cheese x Lowryder (ruderalis hybrid)