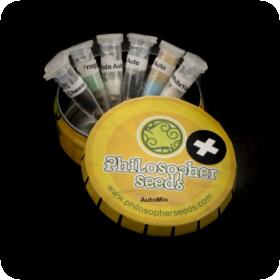 Auto Mix Plus Feminised Seeds
This is a mix of 6 auto-flowering feminised strains from Philosopher Seeds. Mixes are ideal for new growers who haven't decided on their favourite strain yet, or for those who just like a little bit of variety.
This mix contains Lemon Auto CBD, Sleepy Yoda Auto, Cheesy Auto, Fraggle Skunk Auto, White Yoda Auto and Cheesy Auto CBD. Each tube comes with two seeds, the perfect mix of wonderful strains.
This mix is both auto-flowering and feminised. Auto-flowering strains will flower automatically, instead of as the result of a light cycle.
This shortens the flowering time and the stature of the plant, without diminishing the yield. Ideal for those who are lacking in space or who would like to grow in bulk.
Feminised seeds will only grow into female plants, which is excellent for growers who don't want to deal with the male plants. Feminised seeds also tend to be higher in quality and uniformity than regular seeds.
These strains can be grown indoors, outdoors or in a greenhouse.