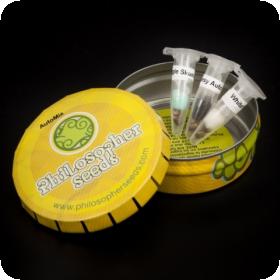 This mix bag from Philosopher Seeds has a combination of different auto feminised strains. These are ideal for new growers who haven't figured out their favourite strains yet, or for more experienced growers who are simply looking for a little bit of variety in their crops. The strains included in this mix are 2x White Yoda Auto, 2x Cheesy Auto, 2x Fraggle Skunk Auto. White Yoda Auto is a cross between two very impressive strains, Lowryder and a 2002 selection of the world famous White Russian. This strain took 7 generations of breeding the Russian genetics to really let it reach its full potential. What else would consumers expect from one of the most legendary strains in existence.
Cheesy Auto is part of the brand new autoflowering line from Philosopher Seeds. Once again this strain took around 7 generations of work and it is defined by the seed company as 'an old school automatic marijuana plant'. It is perfect for any old school Cheese lovers out there. This strain, of course, comes from the original UK Exodus Cheese. A type of Skunk strain which was made famous by its amazing scent and flavour.
Fraggle Skunk Auto is another 7th generation, high quality strain from the breeders at Philosopher Seeds. It is popular for its vigour, potency and amazing psychoactive effects. The strain was created by combining Low Ryder and the amazing Super Skunk strain. This is another old school classic strain perfect for Skunk fans everywhere.
Over all this mix is certainly something for those who are a fan of the classics.
All of these strains are autoflowering and feminised which makes them extremely user friendly. Mixes usually come in feminised as the grower only receives two of each seed type. Feminised means that the seeds will all grow into female, productive plants. These are usually preferred by growers who have no need for the male plants. This means that, in a regular crop, around half of the seeds are wasted. As is half of the money that the grower has spent on them. Feminised seeds are also of a generally higher level of quality and uniformity than regular seeds.
Autoflowering strains flower automatically rather than as a response to a specific light cycle. The result of this is that the plants will skip the vegetative period of growth, this in turn means that these plants enjoy a much shorter flowering time. They also tend to supply a larger yield and can be grown to a much shorter height.