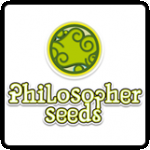 Philosopher Seeds is a seed bank which was first formed in 2008. Since then they have been dedicated to supplying their customers with the very best strains. A number of which they themselves have bred, crossed and stabilised. The company was born when a number of growers, dissatisfied with the general quality of affordable cannabis, joined forces in order to create a new level of merchandise.
They have even taken on a number of the less popular varieties and improved them so that they might make a new name for themselves in the cannabis community. They also work with a number of different colleagues from other seed banks to create or improve some of the most popular strains around. Their most recent collection was released in November 2013. This was due to the combined efforts of Philosopher Seeds and their friends at Reggae Seeds. They have even more plans to bring out new collections including an auto line and a regular line.
However Philosopher Seeds takes their customer service to a whole new lever with their Test Line. This is essentially a way for the customers to give their opinions on non-marketed strains and crosses. This way they are able to alter their catalogues according to customer feedback. A truly innovative method of ensuring customer satisfaction. This Test Line can be found on their excellent website which also includes a list of their strains, a blog, a 'where to buy?' section and a lovely about us section which tells the customers all they need to know about the bran before they consider purchasing from them.
Philosopher Seeds' primary goal is to continue, with the help of their customers, to grow their strain catalogue. To introduce new and exciting strains as well as bring back old favourites with little twists. There are few other seed companies who care quite so much about supplying their customers with the absolute best quality, best variety and best experience possible.