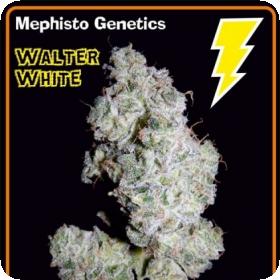 Walter White Auto Feminised Seeds
The breeders at Mephisto Genetics are long time fans of a strain called 'The White' by Krome and wanted to create their very own version of the strain. Once a desirable cut of the strain was obtained the breeders created a successful autoflowering version.
The strain is, of course, named after the much loved main character of the popular television show Breaking Bad. Walter White is a main cola dominant plant with long branches.
This means it can need a little more support than other strains in order to stop the plant from falling over. The structure of the strain does allow for easy manipulation and this makes the plant extremely adaptable and ideal for all sorts of growers and breeders.
It has a citrusy flavour with a hint of herbal spice and has a long lasting, powerful effect.
This strain is autoflowering and feminised which means it has a shorter growing time and higher quality flowers. Autoflowering strains flower differently to regular strains. Instead of flowering as a reaction to a specific light cycle they flower automatically.
This means that they will skip a section of the growing process known as the vegetative period. This would usually require a separate growing area. Since the plants skip this section of the process they have a much shorter flowering process than regular plants.
Autoflowering strains also have a much more impressive yield as well as being able to grow to a much shorter height. This makes them ideal for indoor or 'stealth' growing.
Feminised seeds will only grow into female plants, unlike regular seeds which grow into an even split of males and females. Feminised seeds are ideal for growers who have no use for the male plants.
For these growers the males would usually have to be removed at the start of the flowering process. This ensures that the males cannot harm the productive female plants.
However this does mean that around half of the crop is wasted, and so is half of the money spent on the seeds. Feminised seeds are more efficient and save time, money and effort.
Feminised seeds are also of a generally higher level of quality and uniformity than regular seeds.
Walter White can be grown indoors, outdoors, or in a greenhouse making it ideal for all types of grower and breeder. It has a flowering time of 75 days from sprout and a yield of 90 g/plant.