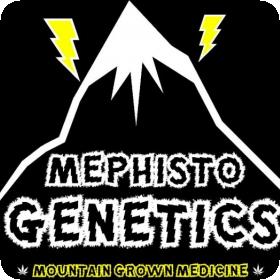 Supernatural OG Auto Feminised Seeds
Supernatural OG is a combination of two OG strains and is a part of Mephisto Genetics brand new 2015 line. It has the tall structure of a Sativa strain and resin coated, impressively dense buds.
In a really good growing environment this strain can grow very tall. This strain can take a little longer to grow and mature but it is widely regarded as being worth the wait. A truly impressive new strain from the talented breeders at Mephisto Genetics.
This strain is both autoflowering and feminised which makes them easier to grow as well as increasing their quality. Autoflowering strains will flower automatically rather than as a reaction to a specific light cycle.
This can make the growing process much easier for novice growers. Due to this automatic flowering they skip a stage of the growth process known as the vegetative period.
This period would usually require a different growing area as well as a lot more time and experience. Since they skip this part of the growing period they have a much shorter flowering time than other, regular seeds.
They can also be kept to a shorter height without sacrificing their impressive yield. This makes autoflowering strains ideal for indoor or stealth growing.
Feminised seeds will only grow into female plants, making them very popular amongst growers. Growers usually have no intention of breeding their own crops making the male plants completely pointless.
They also waste time, money and effort which could be better spent on the productive female plants. Feminised seeds are also of a higher quality and a more impressive level of uniformity than regular plants.
These seeds can also be used by breeders, although they must have quite a lot of breeding experience. Using two female plants can be very difficult as a female has to be convinced into releasing feminised pollen.
This pollen is used in the same way as male pollen, to fertilise another female. The resulting seeds will also be feminised.
Supernatural OG can be grown indoors, outdoors or in a greenhouse. It has a flowering time of 75 days from sprout and a yield of over 90 g/plant.