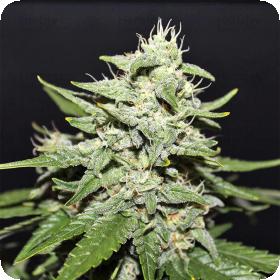 Sour Crack AUTO Feminised Seeds
Sour Crack AUTO Feminised Seeds was created by Mephisto Genetics when they crossed a 24 carat with a Green Crack plant that was in the early breeding stages of becoming an auto.
The result was a Sour Crack AUTO Feminised strain with both parents being fast growing, frosty varieties. Mephisto Genetics describe this strain as being the fastest autoflowering strain they've ever grown.
She is a sativa/indica hybrid that grows from roughly 45-55cm when mature. Flowering time is approximately 7-8 weeks (45-60 days from sprout).
If harvested at the 8 week mark she has a nice hybrid euphoria with the sativa rush being stronger, but if left to mature until 9 weeks the couch lock effect can definitely be felt.
The plants tend to stay small, but have a high calyx to leaf ratio, with extremely dense, rock hard buds. This makes her exceptionally easy to trim and manicure.
Indoors she produces between 30-60g and outdoors she can easily produce 60g+. Sour Crack AUTO Feminisd do not need to be fed much, but it is recommended you feed liberally in the flowering stage.
She seems to benefit greatly from a SOG setup and is perfect for the grower who prefers a perpetual garden, as turnover is extremely fast. Sour Crack Auto Fems do extremely well indoors, outdoors, or even in a greenhouse.
Her lineage also contains plants that have been used to treat a wide variety of medical illnesses and have shown to have extreme medicinal value.
Sour Crack was tested by alpha-cat (www.alpha-cat.org) and was found to contain high THC levels.
This femenised version means that the stress associated with regular seeds, where growers must wait to cull the males, is non-existent. She will produce females 99.9% of the time, which means no time or supplies are wasted growing unwanted male plants.