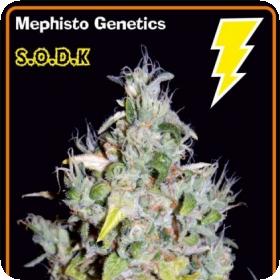 S.O.D.K Auto Feminised Seeds
S.O.D.K is the acronym for Sour Orange Diesel Kush by Mephisto Genetics. This was created by combining Original Diesel with a Sour Orange Male.
The initial cross involved an Orange Diesel Auto that already existed in Mephisto Genetics breeding collection, after that the S.O.D and Auto Orange Diesel was crossed with their Triangle Kush Auto and bred from there.
It is a very enjoyable strain, its easy to grow, it has compact buds and excellent resin production.
It also enjoys a really remarkable aroma and flavour. Mephisto Genetics has specifically sought out heavy Sour Diesel dominant phenotypes to use in breeding over generations of different strains.
It is extremely Sativa dominant and with the addition of the Triangle Kush a little Indica influence was introduced. This has improved the resin production as well as the deep, rich green colouring of the leaves.
S.O.D.K is not only autoflowering but also feminised. Feminised strains will only grow into female plants. This is useful for growers who do not plan on breeding their own crops. For these growers the male plants get in the way and are a waste of money.
Since around half of a regular crop will be male this means that half of the crop will be wasted. Feminised seeds mean twice as many productive female plants for the same price.
Feminised seeds are also of a higher quality and more impressive level of uniformity than regular seeds. In fact 80% of strains which have been bred in this way have shown improvement in both areas.
Autoflowering seeds flower automatically rather than as a reaction to a specific light cycle. This means that they skip a section of the growing process known as the vegetative stage.
Skipping this stage means that they have a much shorter flowering time than regular seeds. They also have a shorter and denser structure which makes them ideal for indoor or stealth growing.
This strain is extremely versatile and can be grown indoors, outdoors or in a greenhouse. It has a flowering time of 75 days, a yield of 90 g/plant, and grows to a height of around 100cm.