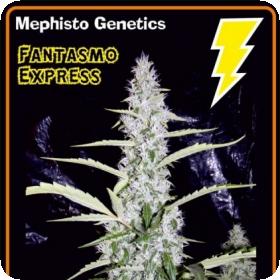 Fantasmo Express Auto Feminised Seeds
Fantasmo Express, otherwise known as Auto OG Ghost Train Haze, is a strain which is unique to Mephisto Genetics. It has the highest percentage of Sativa out of any strain available from Mephisto Genetics.
It was obtained by growing and evaluating a number of different variants of the OG Ghost Train Haze series, it was combined with an extremely impressive male specimen in order to create a top notch, easy to grow strain.
The plant has a good size as well as excellent resin production. In the start of its life this strain looks like an Indica strain. The plant then grows vigorously throughout two stages of growth, it also gives a truly impressive yield.
This strain is both autoflowering and feminised which only enhances its easy to grow nature. Autoflowering strains will flower automatically rather than as a reaction to a specific light cycle.
This means that they skip a stage of the flowering process known as the vegetative period. As a result autoflowering strains flower much faster than regular strains.
They also tend to have a far more impressive yield as well as being able to grow to a much smaller height without the yield being affected. This means that they are ideal for indoor and stealth growing.
Feminised seeds are bred in such a way that they will only grow into female plants. This method of breeding has been increasing in popularity, especially amongst those who have no plans to breed their own crops.
For these growers the males are not only completely useless but also a waste of time, money and energy. The males can actually harm the females during the flowering process and so they must be removed at the beginning.
Usually a regular crop will be around half males, this means that half of the seeds are wasted. Feminised seeds are also of a generally better level of quality and uniformity than regular seeds.
80% of strains which have been bred in this manner have shown improvement in both areas. However it is still possible to breed two female plants together, although it is significantly more complex than regular breeding.
This strain can be grown indoors, outdoors or in a green house meaning that they are ideal for all types of growers and breeders.