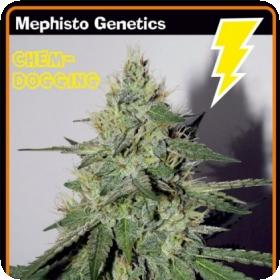 Chemdogging Auto Feminised Seeds
This version of Chemdogging is the product of years and years of research and testing, finally the finished product has been released by Mephisto Genetics. Chemdogging is an important strain in an all new range of amazing autoflowering strains.
It is a cross of a large autoflowering strain which was Sativa dominant and Chemdawg, an already extremely popular strain. It took a number of attempts to achieve the ideal male and female phenotypes but the resulting strain was worth all of the effort put into it.
The potency is one of the primary talking points of the strain, it is intense and long lasting just like its parent plants. It gives a high yield and is, over all, a top quality strain.
Chemdogging is both feminised and autoflowering making it easier to grow and of a higher quality. Around 80% of strains which have been feminised have shown improvement in quality and uniformity.
Feminised seeds will only grow into female plants, this is ideal for growers who have no plans to cultivate their own crops. For these growers there is no need for the male plants, they simply waste time, money and energy.
Usually the male plants would have to be painstakingly removed before the flowering process in order to ensure that they do not harm the female plants. This means that around half of a regular crop would be wasted, as would half of the money spent on it.
Autoflowering strains will flower automatically rather than as a result of a specific light cycle, this can make the growing process a little more simple for novice growers. This also means that they skip a stage of the flowering process called the vegetative stage.
This stage would usually need a separate growing area and so these are ideal for those who are lacking in space. In this same vain autoflowering strains can be grown to a much shorter height making them ideal for indoor growth.
However despite this they tend to have much larger yields than regular plants.
This strain is extremely versatile and can be grown indoors, outdoors or in a greenhouse. It flowers 75 days from sprout, has a height of around 90cm and a yield of 90 g/plant.
Genetics:
Sativa dominant Auto x Chemdawg d IBL