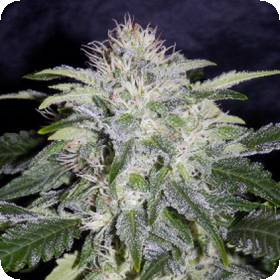 24 Carat AUTO Feminised Seeds
This mostly indica cannabis strain, brought to you by Mephisto Genetics, is the result of a selective breeding effort to take a select cut of BOG's Sour boggle (Sour Bubble x Bogglegum Monster) and cross her with a purple indica breeding auto (Inbred to F4) to create an Afghanica automatic.
The goal was to create an Automatic SOG strain of connoisseur quality. Do not be fooled by her small size of 50 to 70cm tall indoors, as she produces fan leaves that have been described as the size of dinner plates, where even her stems are coated with thick resin.
24 carat finishes her flowering period in around 8 weeks indoors (56 days). She is short with thick stems and tight internodes which results in a VERY high bud to plant ratio.
This strain benefits greatly from a Sea of Green setup and produces roughly 60 to 80 grams per plant. She exhibits both pink and purple phenotypes which results in a beautifully potent plant. 24 carat was lab tested by alpha-cat (www.alpha-cat.org) and found to contain high THC levels.
Outdoors she can produce well over 60+ grams. 24 carat is a VERY stinky plant so indoors it is recommended that a carbon filter is used to keep the smell from reaching any unwanted attention.
She does well in a variety of setups, both indoors and outdoors as well as green house setups. This femenized version means that the stress associated with regular seeds, where growers must wait to cull the males, is non-existent.
She will produce females 99.9% of the time, which means no time or supplies are wasted growing unwanted male plants.
24 carat has high medicinal value and is used to treat a wide variety of medical conditions including insomnia, lack of appetitive and pain. This is an autoflowering cannabis strain you will not want to pass up!
Genetics:
Sour Boggle Select cut x p.i breeding auto (Inbred to F4)