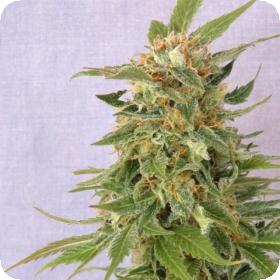 Ginger Punch (Hobbit) Automatic Feminised Seeds
Hobbit Automatic Feminised is another of Kannabia Seeds' projects that improves on an already great strain.
They took the iconic Ginger Ale, perfected it by isolating the best plants (thereby preserving the best genetics), crossed it with a premium quality ruderalis to make it automatic, and - just to be sure they covered all the bases - created an easy-to-manage feminised version that practically grows itself.
The precise genetics include the legendary Haze, Cinderella 88 and Ruderalis. The combination of genetics produces a strain of cannabis that is very hardy and also impressively resistant to common plant diseases, moulds, and fungus.
Hobbit can be grown even in very humid climates without fear of any of these problems.
The flavour of Hobbit Automatic needs to be experienced to be believed: sweet, tart, with the distinct taste of fresh strawberries and sugar. The flavours stay on the palate and keep the user coming back for more.
This is good news since the effect has seemingly no ceiling. The aroma is equally sweet and adds much to the experience overall.
Indoors, Hobbit Automatic can be grown among any other strain - it isn't picky about lighting or temperature and it grows well no matter what growing medium is utilised.
While the name denotes a squat kind of plant, some specimens do pull a little from their sativa genetics and grow a bit taller than average. Even so, the average grow room with average height ceilings should be adequate.
Outdoors, the plants flourish in a variety of weather and climate conditions but will need to be brought in before any threat of frost. In the Northern Hemisphere that generally means harvesting sometime in October. Flower time both indoors and out is about 65 days from seed.