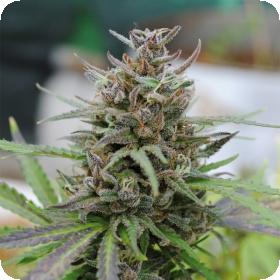 Baby Boom Automatic Feminised Seeds
Baby Boom may be little, but it concentrates a lot of power into a small space. It is the result of crossing pure Ruderalis with the incomparable hybrid of Northern Light and Blueberry.
The Northern lights genetics bring out unique attributes like the smell of pine mixed with earthy, woody undertones.
Couple that with the distinct smell of blueberries and you get an interesting mix of sweet and sour that is at the same time fruity and acidy with an undercurrent of musky goodness.
The finished product produces a result that is very cerebral and relaxing. If the user isn't particularly physically active, that relaxing effect can be couch-locking. More active users will find that it produces a more mild effect.
The plants grow somewhat tall but are very thin. This is advantageous because it allows for a good number of plants to be grown in a small space.
They don't' rely on light cycles to flower, so they can also be packed close without sacrificing quality. Most indoor methods will work well but the plants will need to be topped if growing in a SOG or ScrOG setup.
Each plant produces an abundance of buds with short internodal distances.
Outdoor plants require less maintenance and will produce in equal to great quantity as indoor ones. The plants take on an enticing purple hue as the mature and the colour intensifies when the plants are grown outdoors.
These plants are extremely easy to grow and have a very exotic look. The tallest ones grow to about 5 feet and can be harvested as soon as flowering is complete.
Outdoor plants can be harvested at any time but planting for maximum warm days and short nights will help increase the quality and effect. Flower time indoors or out is about 9 weeks on average.