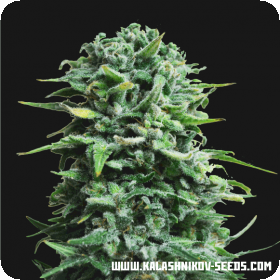 Siberian Haze AUTO Feminised Seeds
This strain is a combination of Siberian Haze and a ruderalis strain. It was created specifically to suit the early autumn in Siberia with a shorter flowering time.
It has high levels of THC and CBD with small, dense buds. This strain will give an impressive yield reaching between 450 - 500 g/m2 indoors and 50 - 80 g/plant outdoors.
The effect of the plant is extremely relaxing whilst also being psychedelic, perfect for those who are suffering from chronic pain.
Siberian Haze is both auto-flowering and feminised. The auto-flowering side, as previously mentioned, gives it a shorter flowering time. It also reduces the size of the plant without negatively affecting the yield.
This makes it a great strain for stealth growers as well as personal and commercial growers.
It is also a feminised strain which just means that the seeds will only grow into female plants. Perfect for growers who have no real use for the male plants.
Normally the males would use up a lot of resources that could better be used on the female plants. Feminised seeds also tend to have a higher level of uniformity and quality than regular seeds.
This strain grows well indoors, outdoors or in a greenhouse and needs 75 - 85 days to flower.
Remember that the cultivation of cannabis seeds is illegal in some countries, please check the laws of your country before attempting to cultivate cannabis seeds.