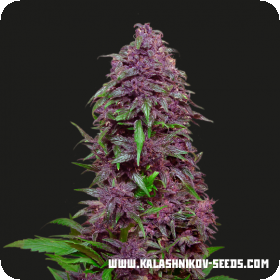 Purple Mazar Auto Feminised Seeds
Purple Mazar is a gorgeous strain that forms ones large central cola in bright purple, surrounded by vibrant green leaves. The colour contrast makes this strain stand out in a crowd, whilst also being more effective at blending in to a normal plant environment.
It's size is also a factor in its ability to hide in plain sight. It is perfect for outdoor growing and once it has been dried its buds turn almost black. It is also an extremely powerful strain which is often recommended for medicinal users.
This strain is both auto-flowering and feminised, meaning that it will flower automatically and will only grow into female plants. Auto-flowering seeds are very popular due to their shorter growing time, shorter stature and greater yields. Since the plants flower automatically they don't go through a vegetative stage, which shortens the flowering period.
Their short stature makes them ideal for personal or stealth growing. Feminised seeds will only grow into female plants, making them ideal for growers. Most growers have no need for the male plants and so would usually waste a lot of good bit of time and money getting rid of them. Feminised seeds also tend to be higher in uniformity and quality than regular seeds.
This strain can be grown indoors, outdoors or in a greenhouse and needs 55 - 60 days to flower.
Remember that the cultivation of cannabis seeds is illegal in some countries, please check the laws of your country before attempting to cultivate cannabis seeds.
Genetics:
Purple x Mazar x Ruderalis (Ruderalis 10%