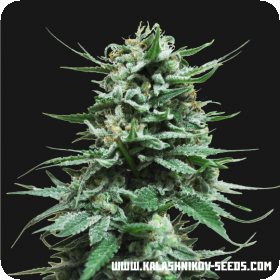 Northern Russian AUTO Feminised Seeds
Northern Russian is a combination of Northern Lights, White Russian and a ruderalis strain. Much like its name sake this plant is just covered in glimmering whiteness, the resin production is truly something to behold. It is a fast flowering strain that produces huge yields of these super resinous buds.
It has all of the great bits of the classic Northern Lights strain but with a few little extra bits and pieces from the other parents, including an excellent potency.
This strain is both auto-flowering and feminised, making it ideal for growers. Auto-flowering plants don't need a light cycle to flower, they do it automatically. This means that they have a shorter flowering time and a shorter stature. Despite their size they usually still produce the same yield, or even a larger one.
They are perfect for those lacking in space, who grow commercially, or who just want a little stealthy garden of their own. Feminised seeds will only grow into female plants which is perfect for growers who don't need the males. Feminised seeds can save a bunch of time, money and effort whilst producing a higher quality crop.
This strain needs 10 - 12 weeks to flower and can be grown indoors or outdoors.
Remember that the cultivation of cannabis seeds is illegal in some countries, please check the laws of your country before attempting to cultivate cannabis seeds.
Genetics:
Northern Lights х White Russian x Ruderalis