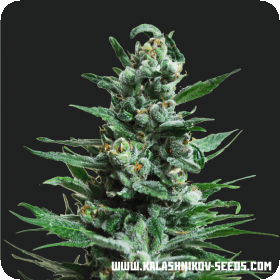 Moscow Blueberry AUTO Feminised Seeds
Moscow Blueberry is a wonderful high CBD strain from Kalashnikov Seeds, and now is can be purchased in its auto-flowering form. It is extremely easy to grow and gives incredible results.
It is a little plant but it produces huge yields of resin coated buds that will leave the mouth watering with their berry scent and flavour. Like many seeds from Kalashnikov Seeds this strain is hardy and can survive most climates.
It is also pretty powerful and relaxing which makes it a perfect chill out strain and a great strain for those suffering from pain, stress and depression.
The effect is not just relaxing but very positive and happy, ideal for lying back on the couch and watching a feel good film, maybe cuddling a pet, that sort of thing.
This version of Moscow Blueberry is both auto-flowering and feminised. Auto-flowering plants will, as one might expect, flower automatically.
This means that it doesn't need a light cycle and will usually have a shorter flowering time, and a shorter stature. Despite their small size auto-flowering plants will give the exact same or even a greater yield.
They are ideal for indoor and commercial growers. Feminised seeds will only grow into female plants, which is perfect for all types of growers.
A regular crop is half pointless male plants that only take up time, space and money. Feminised seeds also tend to be higher in quality and uniformity.
This strain needs 60 - 65 days to flower and can be grown indoors or outdoors.
Remember that the cultivation of cannabis seeds is illegal in some countries, please check the laws of your country before attempting to cultivate cannabis seeds
Genetics:
Blueberry x AK-47 x Ruderalis