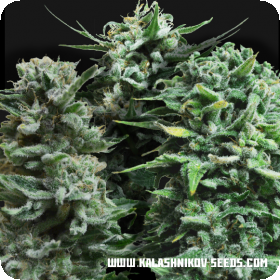 Autoflowering Mix Feminised seeds
For all the growers and breeders out there who fancy a bit of variety but don't want to break the bank, look no further. Kalashnikov has provided a combination of 14 different auto-flowering seeds including AK Skunk, Blue Acid, Northern Russian, Moscow Blueberry, Siberian Haze and many more...well 8 more.
Anyway all of these seeds can be planted together and will flower at around the same time, and pretty quickly at that. These packs are great for all types of growers, be they an old hand who wants to switch things up a bit or a new bug that hasn't quite found their perfect strain. As they say variety is the spice of life, so get spicy!
This mix is an auto-flowering mix! This means that all of these seeds will be auto-flowering and will, therefore, not require a light cycle in order to flower. Auto-flowering plants are usually popular because of their short flowering time, which is a result of the automatic flowering as is their shorter stature.
Despite the fact that these strains are shorter they will still produce a great yield. This means that they are perfect for indoor growing, stealth growing and commercial growing.
These strains will all take about 4 - 5 weeks to flower and can be grown indoors or outdoors.
Remember that the cultivation of cannabis seeds is illegal in some countries, please check the laws of your country before attempting to cultivate cannabis seeds.