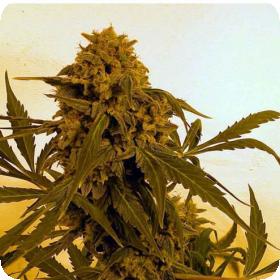 Guillotine Autoflowering Feminised Seeds
Guillotine is another wonderful strain from French Touch Seeds, it was created by combining NYC Diesel and a Ruderalis strain. It was, in fact, the very fist autoflowering variety released by French Touch Seeds.
It is ideal for discrete growing due to its speedy growth, its small size and its impressive flavour. This strain has been in the making for some time now but unfortunately it took some time for an appropriate match to surface.
The effect of the strain is extremely relaxing and calming due to its high levels of CBD. Strains which are high in CBD make wonderful medicinal strains and often are used to treat insomnia, stress, depression, pain and anxiety.
Over all Guillotine is an extremely impressive and very satisfying strain.
This strain is both autoflowering and feminised which means it is a little more user-friendly than the average regular seed. Autoflowering strains flower automatically rather than as a result of a specific light cycle.
This means that they will skip a section of the growing process known as the vegetative stage. This stage usually requires a separate growing area and can cause issues for novice growers. These seeds will also flower much faster and give more impressive yields than regular seeds.
Feminised seeds will only grow into female plants and are predominantly used by growers who do not plan on breeding their own crops. For these growers the male plants can be a nuisance and a danger to the productive females.
Due to this they must usually be removed at the start of the flowering period. The average regular crop contains around 50% male plants, so roughly half of the seeds are wasted. This also means that a lot of money is wasted in the process.
Feminised seeds are also of a higher level of quality and uniformity than regular seeds. Roughly 80% of strains which have been feminised have shown improvement in both areas.
This strain can be grown indoors, outdoors or in a greenhouse. It has a flowering time of 8 weeks and grows to a height of around 90 - 110 cm.