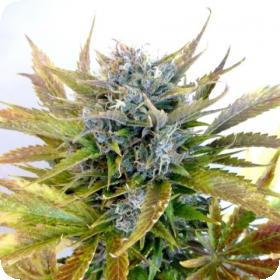 Super Blueberry Haze Autoflowering Regular Seeds
Super Blueberry Haze is an uplifting sativa strain that is bursting with flavour and has a seriously powerful effect. It is extremely simple to grow, which means that it will reward even novice growers with bountiful yields of high quality buds. It is a cross between Super Silver Haze, Blueberry and a Mexican Ruderalis strain.
Its effect is extremely happy and energetic which makes it ideal for recreational and medicinal users alike. Perfect for those who need something to use during the day that isn't too soporific or distracting. It has an extremely strong scent and flavour of blueberry which will leave the mouth watering.
This strain is auto-flowering which means that it will flower of its own accord at a certain point in its life. This also means that it doesn't require a specific light cycle in order to flower. Auto-flowering plants will usually have a much shorter flowering time than normal plants. They will also be a much shorter stature without sacrificing any of the yield.
This makes them perfect for commercial or for private growers. This strain will also grow into a combination of male and female plants, ideal for breeding.
This strain will grow extremely well indoors, outdoors or in a greenhouse.
Remember that the cultivation of cannabis seeds is illegal in some countries, please check the laws of your country before attempting to cultivate cannabis seeds.