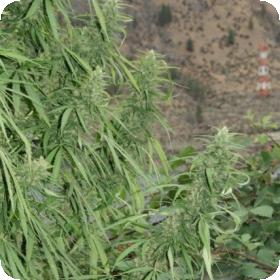 Strawberry Mango Haze SuperAuto Feminised Seeds
This strain is definitely one of the most incredible auto-flowering hybrids available from Stitch, a Flash Seeds breeder, who is already known for amazing strains. This one is seriously fruity and is a combination of Brazil, Stitch 0.2., and Mango Haze. It has one of the most phenomenal scents of any plant, a combination of ripe fruit with real hits of mango and strawberry.
Its effect is powerful but manageable, well for experienced users, and is appropriate for day time use. Its effect is extremely uplifting, fun, and full of energy. Amazingly the flavour of the strain can be even further improved by flushing the plant with pure water towards the end of growing.
Strawberry Mango Haze is both auto-flowering and feminised. Auto-flowering plants will flower automatically at a certain point in their life, rather than as the result of a light cycle. This shortens the plants flowering period and makes for a much shorter plant. Despite their decreased size, auto-flowering plants will not produce any less of a yield.
Feminised plants were created to save growers from dealing with male plants, all of the seeds will grow into females. They also tend to be of a much higher level of quality and uniformity than regular plants.
This strain will grow well indoors, outdoors or in a greenhouse.
Remember that the cultivation of cannabis seeds is illegal in some countries, please check the laws of your country before attempting to cultivate cannabis seeds.