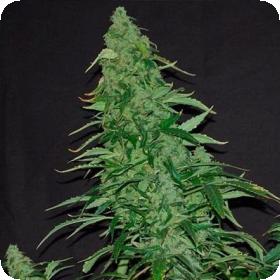 Kush Van Stitch Autoflowering Regular Seeds
Kush Van Stitch is a strain that is known for being a high producer with buds that are loaded with potent resin. The end product favours the user with a smoke that is thick and full of rich flavour.
It has all the qualities that die-hard indica enthusiasts find endearing. This is not a strain for first-timers but those who know what to expect from a powerful indica and are looking for a solid, couch-locking stone are sure to agree: this strain gets it right.
Take the best of the aroma of a high-quality indica and amplify it several degrees and you get Kush Van Stitch. It smells every bit as good as it tastes both while it grows and as it burns.
The tangy sweet citrus smell mingles with incense and a slight hint of diesel oil. When it hits the tongue it awakens the senses and leaves the user wanting more.
Growing Kush Van Stitch is like any other indica. It responds well to a variety of indoor growing methods including soil, potting, hydroponics or specialized methods like Sea of Green.
The plants grow to a medium height and will sometimes stretch a bit with a few hardy lateral branches. Each plant produces an abundance of those amply resinous buds and the dried product stores virtually indefinitely.
Growing outdoors yields similar results, especially in warmer climates. Growing in a good pH-balanced soil with a steady diet of proper nutrients will result in a good yield of high-quality product.
Growers should be careful when growing in notably humid environments as these plants can succumb to mould and fungus. A little care and attention will result notable improvements in production when the plants are properly pruned. Flowering time for Kush Van Stitch is only about 70 days.
Please remember that the growing of cannabis plants and the cultivation of seeds is illegal in some countries - please check the laws of your country and don't be growing any plants if it is against your country's laws.