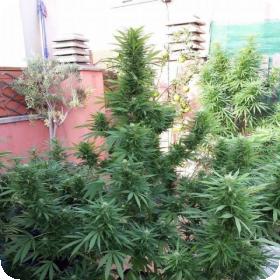 Jamaican Berry SuperAuto Feminised Seeds
This strain comes straight from the Jamaican mountains and is a flavourful and sweet smelling treat. It was selected by true Rastafarians and combined with a wonderful Blueberry strain for a number of years, the result is a wonderful smelling and extremely pure Sativa strain.
The effect of this strain is extremely happy and uplifting making it an excellent day time pain killer, it is also very effective as a treatment for anxiety, depression and stress.
The actual leaves of the plant start off resembling that of an Indica plant, however throughout the flowering process the leaves become skinnier and far more Sativa like.
It also has an extremely impressive and wildly potent yield, this is a powerful strain and is certainly not for beginners.
This strain is both autoflowering and feminised which makes it a little more user-friendly, especially for growers. For those growing in bulk or for individual use this strain has a shorter flowering time, a higher quality and a far higher number of female plants.
Autoflowering strains will flower automatically rather than as a result of a specific light cycle. This means that the plants will skip a section of the flowering process known as the vegetative period.
Skipping this period causes the plants to have a much shorter flowering time. They also produce a much higher yield than regular plants whilst being able to grow to a much shorter height, this makes them ideal for indoor and stealth growing.
Feminised seeds will always grow into female plants, this means that the grower receives twice the number of females for the same amount of money that they would spend on a regular crop.
Male plants usually have to be removed at the start of the flowering process to ensure that they do not damage the female plants. This is a waste of time, energy and resources. 80% of strains which have been feminised have shown marked improvement in both of these areas.
Jamaica Berry can be grown indoors, outdoors or in a greenhouse. It has a flowering time of 90 - 105 days, a height of 150 - 300 cm and a yield of 150 - 450 g/plant.
Genetics:
Jamaica x Blueberry x Stitch0.2