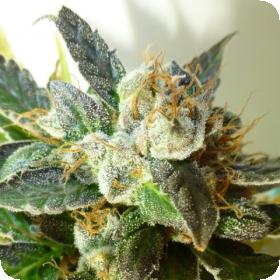 Bubble Crack Autoflowering Regular Seeds
This strain by Flash Seeds is a combination of Bubble Gum and Green Crack with some Mexican Ruderalis genetics. This is really one for experienced smokers because it is incredibly powerful. It is easy to grow, even for novices, and will really reward experienced growers.
This strain has a seriously happy and energetic effect with a psychedelic twist that will knock users right on their ass. It is floaty and uplifting which makes it a great medicinal strain for both day and night use. Perfect for those who need a break after a long day.
Bubble Crack is an auto-flowering strain, perfect for those who don't have a lot of time, space and money to throw around. Auto-flowering plants will flower automatically, rather than as a result of a specific light cycle. This means that they have shorter flowering time than photoperiod seeds.
They will also be of a shorter stature whilst still giving a great yield. This makes them ideal for indoor or stealth growing. Gender wise these are regular plants, which means they will grow into a combination of male and female plants, the split will be roughly even.
This strain is really versatile and will grow well indoors, outdoors or in a greenhouse.
Remember that the cultivation of cannabis seeds is illegal in some countries, please check the laws of your country before attempting to cultivate cannabis seeds.
Genetics:
Bubble Gum x Green Crack x Mexican Ruderalis