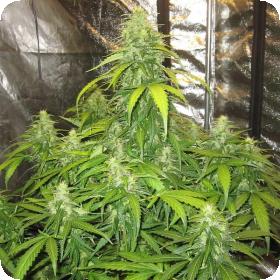 Devotchka Auto Feminised Seeds
Devotchka Auto is an indica-sativa hybrid cross made between AK-47, Haze and Lowryder. It is a very productive strain, which also has a high level of THC. It's named after the Russian word for "girl"
Suitable for both indoor and outdoor cultivation, this self-flowering strain grows 70-100 cm. High indoors depending on available root space as well as general conditions such as light, ambient temperature and nutrients.
Its total life-cycle from seed to harvest is between 65-80 days, with yields expected to be between 400-600 g/m2. Outdoor plants are somewhat taller, with yields of up to 150 cm and yields of 70-100 gr/plant. Multiple sticky colas are produced and they exude fruity scents.
Devotchka has a scented taste that is reminiscent of sweet incense with pronounced skunk notes. The production of THC is very high, and the dense smoke or steam produced by this strain gives rise to a very uplifting, social high, great for discussions with friends.