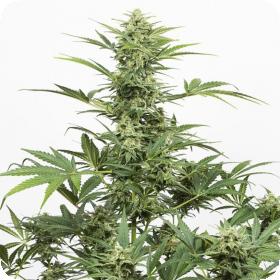 Industrial Plant CBD Auto Feminised Seeds
Dinafem's well-known Industrial Plant autoflowering strain with a high CBD content. 
It has a very good THC:CBD ratio for therapeutic use, namely 1:2.25, as well as a high yield. 
It is a medium-sized plant with numerous branches with dense and sticky buds. 
It has a lovely rich and fruity aroma, but it is the high CBD content that distinguishes it as an almost unique marijuana strain since its gentle and relaxing impact can be used to cure both physical and psychological illnesses.
Autoflowering in Industrial Plants CBD grows well indoors, outdoors in warmer climates (such as the Mediterranean), and at higher elevations and latitudes when protected inside a greenhouse. 
Dinafem recommends combining 30% coco coir into the growing medium and starting plants in 15 litre containers. If this advice is followed, it is entirely possible to have more than one harvest per year.
Ripe fruits, citrus, Skunk, and spices are among the flavours. 
Its high CBD content will aid in the treatment of sleeplessness and muscle discomfort.
Genetics:
Industrial Plant x Pure CBD Plant