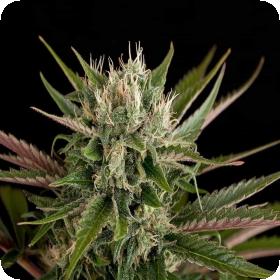 Blue Cheese Auto Feminised Seeds
Blue Cheese is an 80/20 sativa/indica hybrid bred by a numerous seed banks including Dinafem seeds. It represents a hybrid crossing of a healthy Cheese female with a selection of genetically-superior Blueberry male plants.
As mentioned, this strain is favourite hybridization project among some of the cannabis world's top breeders, mostly owing to its stability and its stature. These short beauties are also fast finishers at just 8-10 weeks and very high yielders.
Dinafem's Blue Cheese brings with it all the best traits of both of its parent strains. The overall stability comes from the numerous and successful breeding projects and experimentation these genetics have undergone over time.
These are short plants but they are also stocky. They will need some room to stretch but their height makes them good candidates for growing in specialised environments like ScrOG and SOG. The buds are very compact and tight and take on a mystical purple colour as they mature.
Each Blue Cheese plant produces a single large main cola. Yields can be increased by controlling side branching. They finish a bit late in the Northern Hemisphere making the outdoor grower wait until the latter part of October to harvest.
Blue Cheese Auto is very easy to grow and suited best for small-batch growing. The yields are fine for personal use but not so much for commercial purposes. Expect about 150 g per square metre on average with these plants.
The good news is that it will likely all be used long before it loses its shelf life. Its flavour is fruity and sweet with some particularly earthy and musky undertones.
The smell compliments the flavour which is an expected and consistent trait for strains that include cheese genetics. Don't miss out on the chance to experience this simple, award-winning strain.