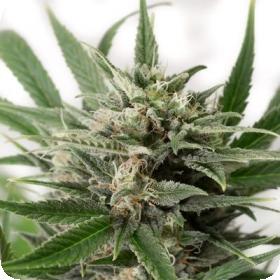 Blue Amnesia XXL Auto Feminised Seeds
Blue Amnesia XXL is another wonderful Auto strain from Dinafem Seeds. This is a cross between the Original Amnesia Autoflowering and Auto Blueberry.
The resulting strain produces quality crops and is relatively easy to grow and fast flowering. It is also a vigorous grower the develops elongated yet compact buds which have a hefty coating of resin.
The colour of the strain is really impressive and it evolves beautiful purple/violet hues depending on the temperature that it is exposed to. The flavour and the aroma of the strain are rather intense with slight hints of pepper and berries.
The effect is a powerful mental and physical one which is ideal for socialising or for medicinal purposes. Since the strain is so powerful and uplifting it works well as a day time painkiller.
This is because it can dull pain effectively without completely removing the patient's lucidity. It is also great for those suffering from anxiety, stress and depression.
This strain is feminised as well as autoflowering making it even more user-friendly. Feminised seeds are, right off the bat, higher in quality and show better uniformity than regular plants.
Apart from this they will only grow into female plants making them very popular amongst growers. Growers tend to have no need for the male plants, and so they simply take up space and resources which could be better put to use on the female plants.
Since the males can harm the females they must be removed at the start of the flowering process. This can mean that around half of the crop, and half of the money spent on seeds, is wasted.
Autoflowering seeds will flower automatically rather than as a result of a specific light cycle, this can make them easier for novice growers.
Autoflowering plants also skip a section of the flowering process known as the vegetative stage. This stage would often require a separate growing area and increases the flowering time of the plant.
Not only do autoflowering plants have a shorter flowering time, but they can grow to much shorter heights without their hugely improved yields being effected. This makes them perfect for indoor or stealth growing.
This strain can be grown both indoors and outdoors, has a flowering time of just 75 - 80 days and should be harvested from April to October. The indoor yield is 400 - 450 g/m2 and the outdoor yield around 60 - 170 g/plant.