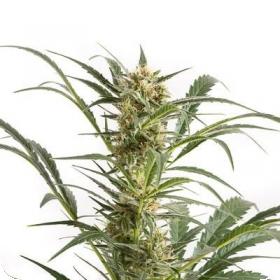 Amnesia XXL Autoflowering Feminised Seeds
Amnesia XXL by Dinafem Seeds is a Sativa dominant strain which was born from a cross of the original Amnesia and Original Amnesia Autoflowering. The resulting strain is an extremely high quality plant which is bound to be extremely popular amongst Sativa fans.
The primary aspect of this plant, and where it receives its name from, is its phenomenal yields.
It is also extremely fast flowering and easy to grow producing dense, resin coated buds. The scent and taste of the strain contain lemon, incense, pine and of course the classic Haze.
Its long-lasting effects are extremely heady and uplifting making it an impressive recreational and medicinal strain. This strain makes and excellent day time painkiller as it allows the user to remain active.
It is perfect for those suffering from stress, depression, pain and anxiety.
Amnesia XXL is not only autoflowering but also feminised making it even more user-friendly. Autoflowering strains flower automatically rather than as a result of a specific light cycle. This means that they skip a stage of the flowering process known as the vegetative stage.
This stage being skipped in turn means that the plants will have a much shorter flowering time.
They also tend to have improved yields and can be grown to a much shorter height than regular plants. This makes them ideal for indoor or stealth growing.
Feminised seeds have been bred in such a way that means they will only grow into female plants. These seeds are extremely popular amongst growers who have no need for the male plants.
In fact, they not only get in the way and waste resources, but they can harm the female plants during the flowering process. Therefore, they have to be removed at the start which is not only a waste of time and energy but a waste of money.
Feminised seeds are also of a generally higher level of quality and uniformity than regular plants.
This strain can be grown indoors, outdoors or in a greenhouse. It has a flowering time of 10 - 12 weeks and outdoors can be harvested from April to October.