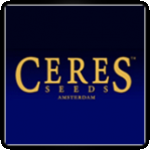 Ceres Seeds is a Dutch seed company founded in 1999 offering seeds which are easy to grow, reliable and 100% stable. Their original (landrace) seeds were imported from Jamaica, Thailand, and Colombia and were stocked in many coffeeshops in Amsterdam before the modern varieties appeared.
Their first variety, White Panther (F.K.A. White Smurf) was created in 2000 and won two awards at the Cannabis Cup at the High Times Cannabis Cup that year. They are recognised by the international cannabis community, and contine to receive various accolades and awards. Ceres Seeds are devoted to F1 excellence, with attention to detail appreciated by cannabis connoisseurs. Ceres Seeds offer a plenty of choice for everyone and, because of the many years experience, all of the seed strains are of the best quality.
Please remember that the growing of cannabis plants and the cultivation of seeds is illegal in some countries - please check the laws of your country and don't be growing any plants if it is against your country's laws.