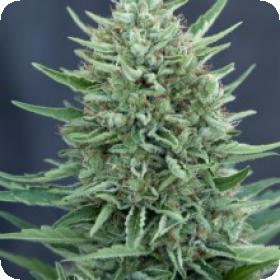 Med Gom CBD Auto Feminised Seeds
CBD Med Gom Auto is CBD Crew's new high CBD autoflowering strain. 
It is the culmination of a lengthy research and development process in which Grass-O-Matic and CBD Crew collaborated to create a high-quality medicinal cannabis strain with the benefits of automatic flowering. 
All MED GOM 1.0 seeds will produce female plants with a minimum guaranteed level of Cannabidiol (CBD) of 4% that are ready to harvest 60/65 days after germination. 
The THC/CBD ratio would be between 1:1 and 1:2, and depending on the growing conditions, the cannabinoid concentration may reach 10% THC and 15% CBD. 
CBD Med Gom is a medium-sized plant that rarely grows taller than one metre, with compact buds totally covered with sticky resin and exuding a powerful citrus scent with spicy overtones. 
The gardener can expect between 25 and 50 grammes per plant. 
CBD/THC and other cannabis active principles have recently attracted a lot of attention due to its medicinal, curative, and preventative properties.