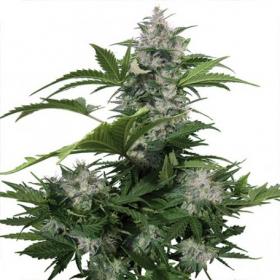 White Dwarf Auto Feminised Seeds
White Dwarf is a cross between two powerful Indica strains. The result is a fast flowering, vigorous strain with an amazing effect. It grows to a short size which makes it an ideal indoor or balcony strain.
It is naturally very resistant to mould and critters, which makes it an ideal strain for novice and experienced growers alike. It will give growers very few issues during its growth and the final product will give users hours and hours of pleasure.
This strain is auto-flowering and feminised which means that it will flower of its own accord, rather than as the result of a specific light cycle. This means that the flowering time will be significantly shorter, as will the structure of the plant.
Despite the height of the plants they will still give an impressive yield. Feminised strains will only grow into female plants, which is ideal for growers.
Male plants can hassle the females during the flowering process and so they need to be removed. This can be a massive waste of time and money for growers. Feminised seeds also tend to have a higher level of quality and uniformity.
This strain has a flowering time of just 60 days and can be grown indoors or outdoors.
Remember that the cultivation of cannabis seeds is illegal in some countries, please check the laws of your country before attempting to cultivate cannabis seeds.