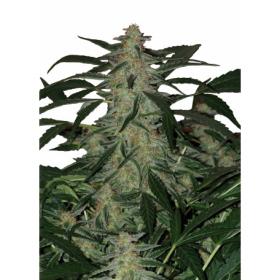 Deimos Auto Feminised Seeds
Deimos is a mostly-indica hybrid with genetics taken from the famous Northern Lights and refined down through seven generations to produce a plant that is not only feminised but also auto-flowering. All the features of the classic Northern Lights are here from the size of the plant to its attributes that are unique to the original strain with the added convenience of auto-flowering.
For growers new to cannabis cultivation, auto-flowering or auto-feminised seeds are those which produce plants that are genetically pre-disposed to enter their flowering stage at a certain point in their development. "Regular" seeds require specific conditions and light patterns to stimulate budding, whereas auto-flowering plants bud simply because that is what their genetics tell them to do at a specific point. This makes them a great choice for those who have never grown cannabis before or those who are looking for maximum yield with minimal effort.
Deimos in particular produces an excellent yield and grows to a large, branchy, stretchy mature plant. It will require a decent amount of horizontal space but won't grow taller than 3 feet. This makes it a good strain for indoor growers with large areas devoted to their cannabis projects. Greenhouses are an excellent indoor growing environment and the seeds respond well to virtually any growing method. The more space it has to stretch those strong lateral branches, the better it will produce and the buds will be as large and thick on the outer branches as they are closer to the centre. Outdoors, Deimos thrives in temperate climates but can grow well in the Northern hemisphere when harvested before first frost.
The flavour of Deimos is tangy and sweet and provides a relaxed yet functional stone that is perfect for social or medicinal use. Medical marijuana users will appreciate its ability to counter headaches, body aches and nausea that is common with certain medical treatments.
Please remember that the growing of cannabis plants and the cultivation of seeds is illegal in some countries - please check the laws of your country and don't be growing any plants if it is against your country's laws.