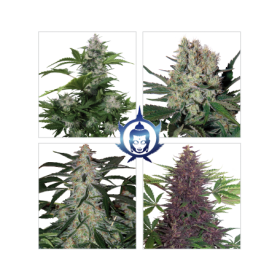 Assorted Auto Feminised Mix
Variety is the spice of life and Buddha seeds knows this all too well. For them, it's not just about variety, it's not even just about the spice - it's all about expanding horizons, trying new things and being able to enjoy the literal fruits of one's labour.
Of course that last bit may be a bit of a strain on some and that is why, when piecing together this assorted seed pack, the good people at Buddha Seeds opted to restrict this assortment to easy-growing auto-feminised (aka auto-flowering or automatic) varieties.
The pack comes with four seeds: one of each auto-flowering strain.
Not only fine wine comes in white or red, as Buddha Seeds knows too well. The grower's journey subsequently begins with one seed from each Dwarf variety. One Red Dwarf and one White Dwarf are included.
Each variety has similar flowering periods and can be harvested at the same time when fully mature.
Also included is one Deimos seed. Deimos brings its impressive Northern Lights genetics to the table along with its seven generations of inbreeding that have made it incredibly stable and 100% auto-flowering.
It produces a substantial yield and grows large and branchy, yet not too tall - only about 3 feet when fully mature. It has a tangy, sweet flavour and provides a functional stone that is ideal in social or medicinal situations.
Round out the team with another power player: Syrup. As the name suggests, this strain is very sweet and thick - so much so it can feel like it fills the mouth as well as it fills the senses. It matures in under 60 days, especially when grown indoors.
As a bonus, Buddha Seeds also offers six more "mystery" seeds in this pack for growers who enjoy a challenge or just the element of surprise, for a grand total of 10 seeds per packet.
Please remember that the growing of cannabis plants and the cultivation of seeds is illegal in some countries - please check the laws of your country and don't be growing any plants if it is against your country's laws.