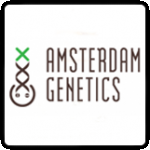 With their genetics deeply rooted in the history of some of the planet's most famous coffeeshops, including Boerejonges, Tweede Kamer, and Coffeeshop Amsterdam, it's no wonder that Amsterdam Genetics sees themselves as experts in cannabis.
With a team of highly experienced professionals, their growing reputation arose from an understanding of customer requirements and consistently high-quality seeds with incredibly sought-after genetics.
Amsterdam Genetics offers a range of regular, feminised and medical strains to their customers, all of which produce unrivalled superiority high-yielding plants.