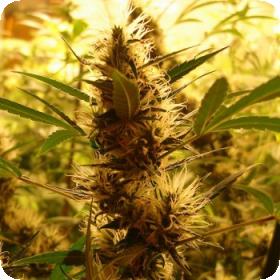 710 Diesel AUTO Feminised Seeds
One would be hard-pressed to find even a casual cannabis enthusiast that isn't at least marginally familiar with Diesel. It is one of the world's most popular strains with a sweet and oily flavour that has strong notes of both citrus and diesel fuel.
The diesel fuel side is very evident when lit and the aroma mimics the flavour nicely. This is also one of the most popular strains with breeders around the world for creating top-quality hybrids.
The finished product produces an effect that is both light and very pleasing. It begins strong then gradually tapers off leaving the user relaxed and content.
The mellow nature of this strain comes from its low CBD content and moderate THC. The result of that combination is a nice, cerebral high that is both head-filling and also uplifting.
Growers, especially first-timers, will find Diesel AUTO particularly easy to handle. Not only does it grow virtually unattended, the inclusion of ruderalis genetics also triggers flowering at a specific developmental point.
These plants are also small enough to grow almost anywhere, both indoors and out.
Indoor growers report that soil and potting are the best methods for growing Diesel AUTO, but the ruderalis genetics also keep size under control, allowing for growing in SOG and ScrOG setups quite easily.
The plants do branch a bit, but they also respond favourably to tying to maximise use of available space.
Diesel is not just an indoor strain, though. In fact, it was originally developed with outdoor growing in mind and flourishes practically anywhere, even where the seasons change drastically.
This feminised auto-flowering cannabis strain produces a bounty of delectable buds that are resinous and tempting to the eye. Once can realistically expect generous yields anywhere from 500 to 800 g of quality product per square metre.