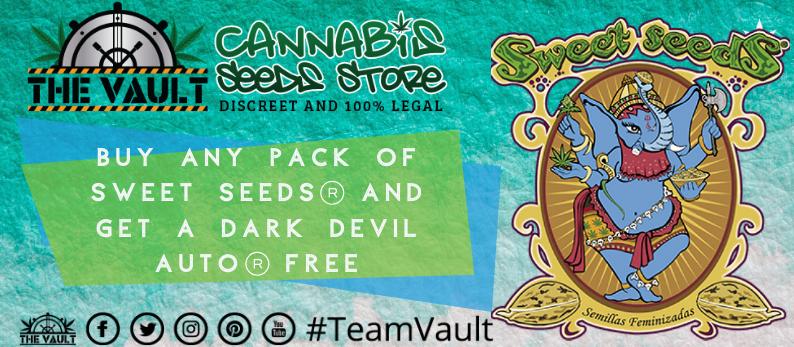 Another sweet offer from our buddies over at Sweet Seeds ® Buy ANY pack of Sweet Seeds ® and get a Dark Devil Auto for free!
This is of course, on top of all the other offers currently live at The Vault Cannabis Seeds Store, check them out on our cannabis seeds offers page.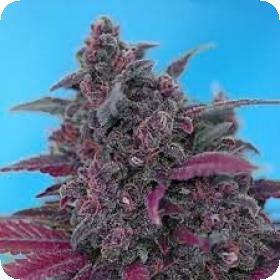 Dark Devil Auto Feminised Seeds ®
This strain is comprised of a 100% Autoflowering crossing of one of Sweet Seeds ® best received autoflowering genetics, Big Devil XL, and an exotic autoflowering strain that produces purple flowers.
The purple phenotype is taken from its roots close to Afghanistan, in the Chitral region in the Pakistani Hindu Kush. As is typical of many of Sweet Seeds' strains, Dark Devil has a great amount of vigor from the get-go.
As with the majority of Indica-Sativa hybrids, this strain presents with a robust central stem and an abundance of side branches, with a big main cola and numerous smaller buds on the side branches.
The flowers and their surrounding leaves show an outstanding level of resin production, with a sweet, fruity fragrance and some more spicy undertones, with lemony hues to it. About 80% of the plants' buds will usually some purple or reddish tones to them, with some of this also transferring to the leaves.
It is said the after harvest the dried buds become a very dark purple, almost black, colour, hence the name given to the strain.
This seed has an expected flowering period of around 8 ½ weeks and will grow to a height between 80-130 cm. The expected yield for outdoor growth is around 50-200 grams per plant. For indoor growth this is approximately 400-600 grams per square meter.
Why not head on over to The Vault Cannabis Seeds Store and pick up some Sweet Seeds ® Cannabis Seeds now, whilst taking advantage of the discount code SS15 for a whopping 15% discount off your order of Sweet Seeds ® Cannabis Seeds.
Feel free to post a comment below to let us know your thoughts about Sweet Seeds and their strains in particular the Dark Devil Auto.
Newsletter Sign Up
Make sure you never miss another Vault promo – sign up for our newsletter at http://goo.gl/Bt2Ba2
Remember: It is illegal to germinate cannabis seeds in many countries and some remote, less enlightened planets outside the core systems.  It is our duty to inform you of this fact and to urge you to obey all of your local laws to the letter.  The Vault only ever sells or sends out seeds for souvenir, collection or novelty purposes.